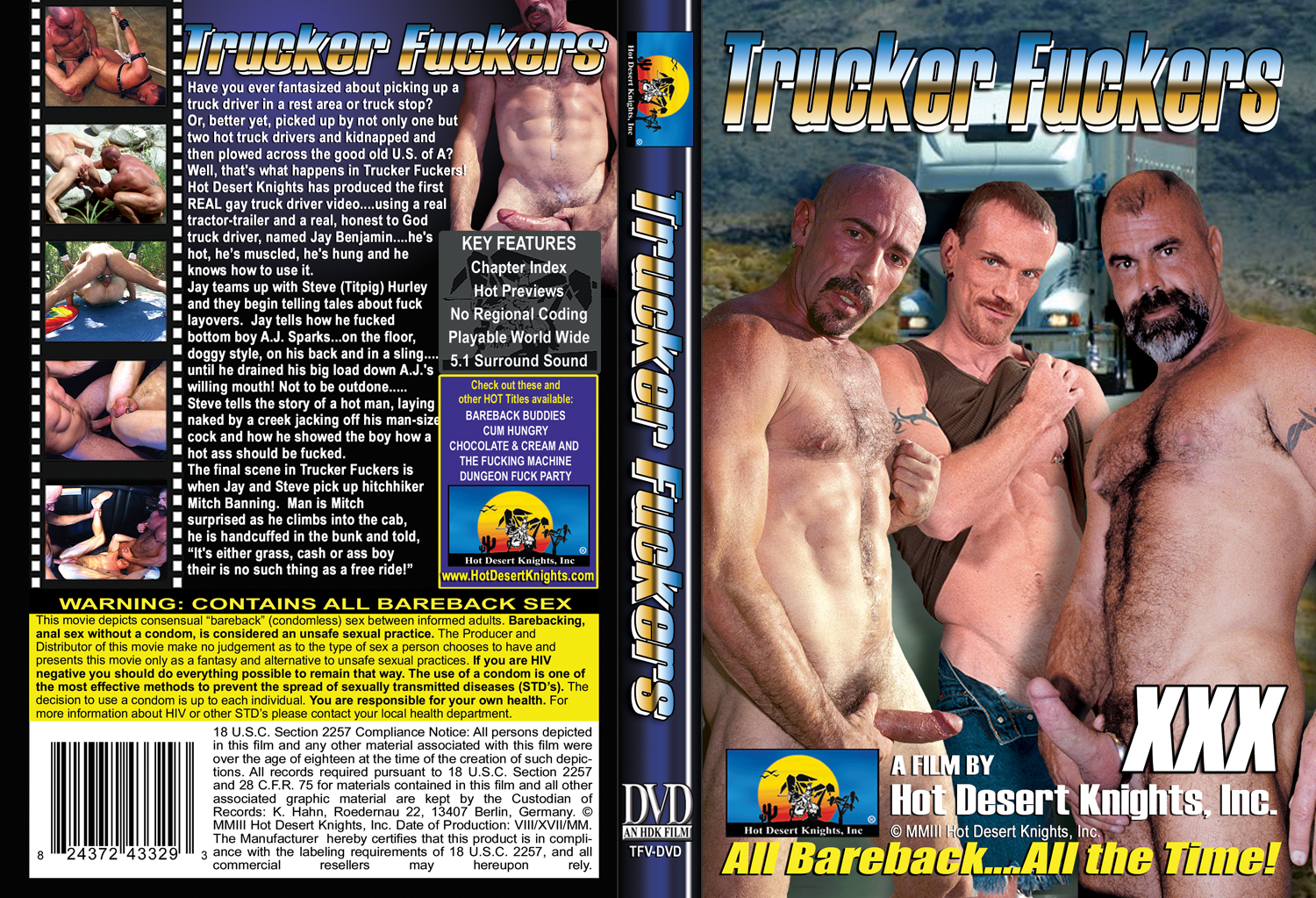 Have you ever fantasized about picking up a truck driver in a rest area or truck stop? Or, better yet, have you ever dreamed of being picked up by not only one but two hot truck drivers and kidnapped… and then plowed across the good old U.S. of A? Well, that's what happens in Trucker Fuckers.
Hot Desert Knights has produced the first and only REAL gay truck driver video, using a real tractor-trailer and a real, honest to God truck driver. And man, is he hot! Jay Benjamin in real life is a genuine, gear-jammin' truck driver. He's hot, he muscled, he's hung and he know how to use it.
He teams up with Steve (Titpig) Hurley (of Big Bear Trucking Fame) as they drop their load in LA. Now empty, and on their way to Phoenix, they begin telling tales about previous fuck layovers and you get to see the action, as they tell their stories. First as Jay tells how he fucked the hell out of bottom boy A.J. Sparks during a layover in Philadelphia, he fucked him on the floor, doggy style, on his back and in a sling, and finally Jay drains his big cock right down A.J.'s hot, willing mouth!
Not to be outdone, Steve then tells the story of when he was hiking one day and came across a hot man, laying naked by a creek jacking off his man-sized cock, and of course, the action picks up from there as Steve, in his usual Titpig style, shows the boy how a hot ass should be fucked!
The final scene in Trucker Fuckers is when Jay and Steve pick up Mitch Banning as he is hitchhiking just outside of a rest area on Interstate 10 or, as the rest areas are called by truck driver, the Pickle Park. Mitch is on his way to Tucson to see his girl and get some pussy and man is he surprised as he climbs into the cab, is handcuffed in the bunk and told – It's either grass, cash or ass boy, their is no such a thing as a free ride!
Use your CCBill Affiliate Code and promote this HDK Movie using the following:
Download Photo Set from this HDK Movie