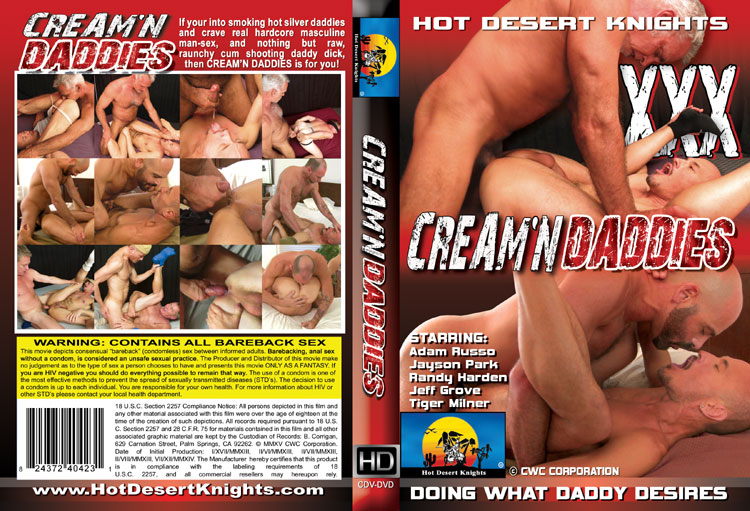 This movie is dedicated to all the bareback fans who have requested for us to produce more "Classic Daddy Bareback Movies" …so hold on to your cock because your about to get what you asked for and whole lot more!
These relentless muscle daddies pound hard hairy juicy puckered holes with absolute precision until every quivering eager hungry hole is filled with spewing cum. These insatiable men fuck with an innate skill and intensity that is pure, virile animal prowess. Watch the reactions of the men they breed and you'll know it feels every bit as good as it looks.
From total sex-slaves like Jayson Park, to dominant hardcore fuckers like Adam Russo, from submissive man-cunts like Tiger Milner, to testosterone-driven daddies with raging balls between there legs like Randy Harden and Jeff Grove, these fuckers lay it all on the line to explore the real prowess of man-to-man sex. The scenes are filled with hot muscle daddies eager to pump cum in hot man-cunts and hungry mouths. Watch as cum famished bottom Jayson Park takes on some of the most ardent ravenous bareback daddies and pounding dicks, as he quenches his thirst for cum in every hole, and boy do these top daddies love every minute of it.
In CREAM'N DADDIES you get scene after scene of begging, willing man-cunts getting what they need from each daddy, raw raunchy "Masculine Man-Sex" and a hot load to boot!
If you have a real taste for CLASSIC Hot Desert Knights movies and all natural daddy dick, and like what real daddies desire, then we can guarantee that you'll want to get this movie for your total pleasure. CREAM'N DADDIES is a testament to raw daddy dick!
Use your CCBill Affiliate Code and promote this HDK Movie using the following:
Download Photo Set from this HDK Movie