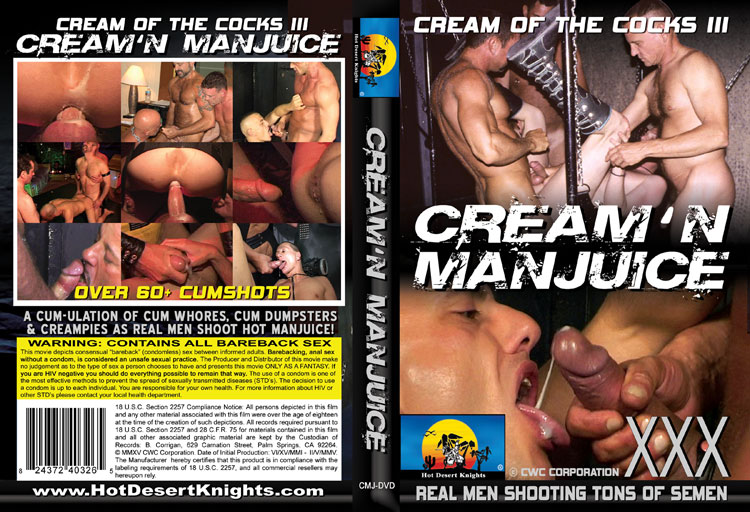 A CUM-ULATION of cum whores, cum dumpsters & creampies as real men shoot hot manjuice!
If your a true lover of cum and all natural real men, if you like hot steamy manjuice being pumped down your throat, or literally pumped up your ass, or shot all over your body, then "Cream of the Cocks III – CREAM'N MANJUICE" will surely blow your load. If you like rough hairy build natural men feeding you their hot white milky cum, and if you like giving it or taking it raw, and enjoy one load after the next as it's pumped out of hot throbbing pieces of huge man meat, then CREAM'N MANJUICE will bust your nuts as you yourself shoot load after load.
Watch as a cum-ulation of semen explodes on the screen, as these guys pump it out and pump it in every hot willing hole. Pace yourself and follow along as you watch one hot discharge of splattering cum explode on the screen, one after the other. Whether you call is cum, manjuice, spoogie, jizz or semen…. Hot Desert Knights has put it all together, JUST FOR ALL YOU CUM LOVERS, a large collection of explosive splattering CUM SHOTS.
CREAM'N MANJUICE:
• 80 Minutes Long
• and more than 60 Cum Shots
Use your CCBill Affiliate Code and promote this HDK Movie using the following:
Download Photo Set from this HDK Movie