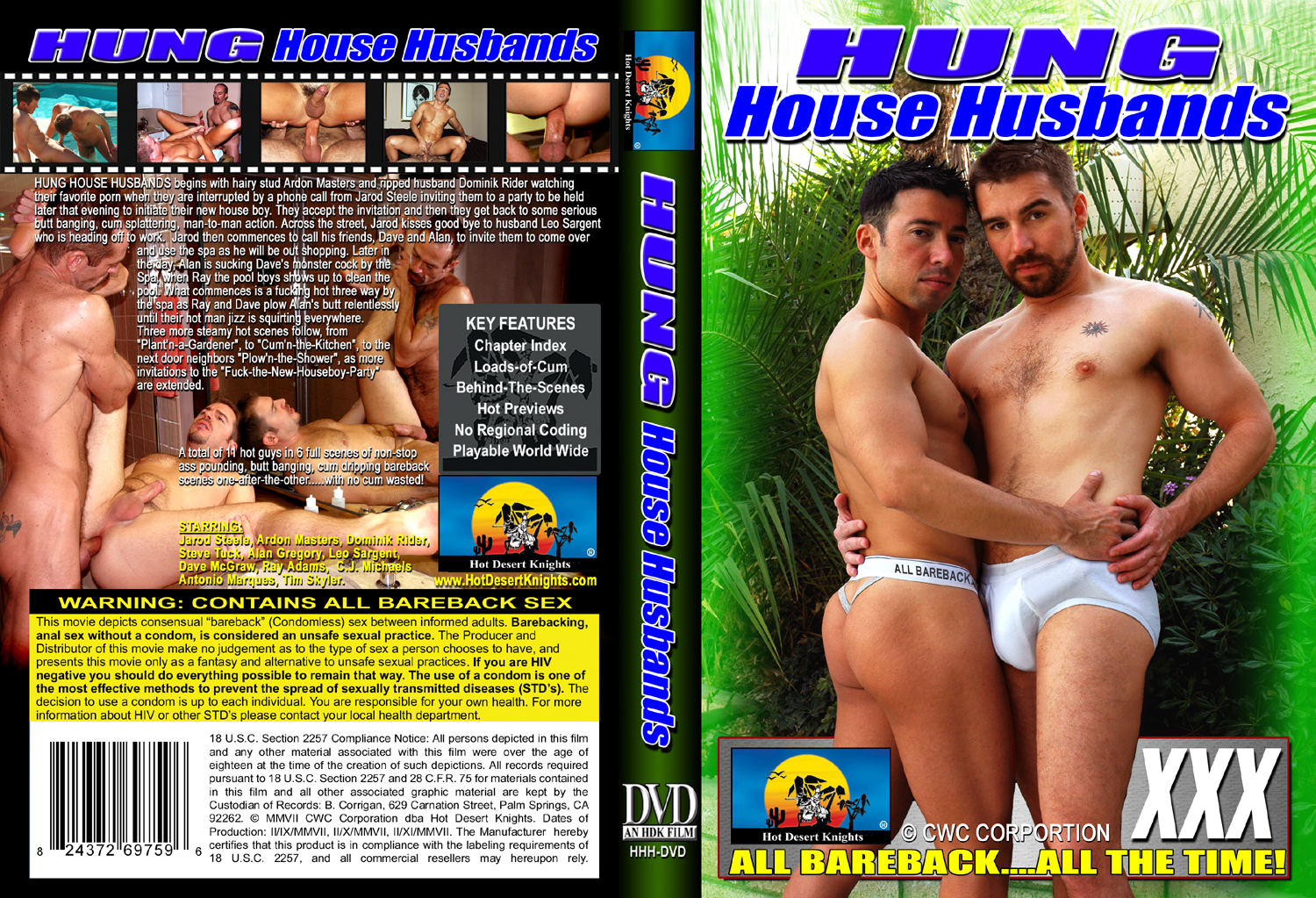 The butt pounding comic antics of these raw HUNG HOUSE HUSBANDS will make you wish you lived on a street like this one!
What do you do when you get the "seven year itch" and the sex between you and that hung husband of yours begins to fade just a bit? You find someone else's hung husband and start to have fresh, new, exciting, butt pounding sex on the sly. Or, you find a young, hung cute stud to introduce into your relationship and fuck the hell out of him by the pool. And, that is exactly what happens in HUNG HOUSE HUSBANDS.
HUNG HOUSE HUSBANDS begins with hairy stud Ardon Masters and ripped husband Dominik Rider watching their favorite porn when they are interrupted by a phone call from Jarod Steele inviting them to a party to be held later that evening to initiate their new house boy. They accept the invitation and then they get back to some serious butt banging, cum splattering, man-to-man action.
Across the street, Jarod kisses good bye to husband Leo Sargent who is heading off to work. Jarod then commences to call his friends, Dave and Alan, to invite them to come over and use the spa as he will be out shopping. Later in the day, Alan is sucking Dave's monster cock by the Spa, when Ray the pool boys shows up to clean the pool. What commences is a fucking hot three way by the spa as Ray and Dave plow Alan's butt relentlessly until their hot man jizz is squirting everywhere.
Three more steamy hot scenes follow, from "Plant'n-a-Gardener", to "Cum'n-the-Kitchen", to the next door neighbors "Plow'n-the-Shower", as more invitations to the "Fuck-the-New-Houseboy-Party" are extended. The movie culminates as all the HUNG HOUSE HUSBANDS gather at Jarod and Leo's house party to initiate the new "House Boy" into the neighborhood in an all out butt pounding "Gang Bang" not to be missed!!!
Use your CCBill Affiliate Code and promote this HDK Movie using the following:
Download Photo Set from this HDK Movie