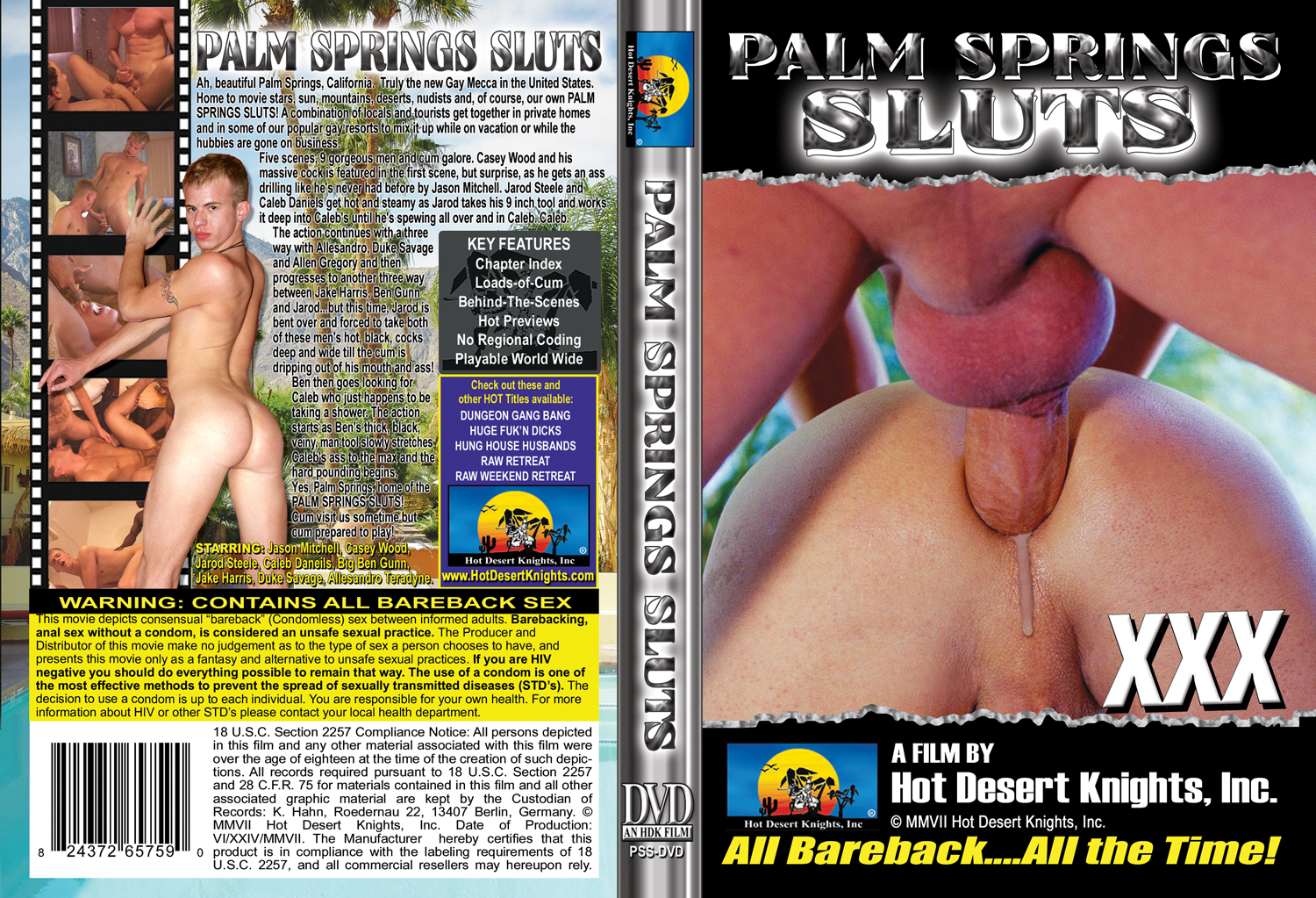 Ah, beautiful Palm Springs, California. Truly the new Gay Mecca in the United States. Home to movie stars, sun, mountains, deserts, nudists and, of course, our own PALM SPRINGS SLUTS! With more than 40 gay resorts, most of which are clothing optional, you can just imagine the sex and sweat and cum that takes place in our desert paradise.
A combination of locals and tourists get together in private homes and in some of our popular gay resorts to mix it up while on vacation or while the hubbies are gone on business.
Five scenes, 9 gorgeous men and cum galore. Casey Wood and his massive cock is featured in the first scene, but surprise, as he gets an ass drilling like he's never had before by Jason Mitchell. Jarod Steele and Caleb Daniels get hot and steamy as Jarod takes his 9 inch tool and works it deep into Caleb's beautiful, quivering ass until he's spewing all over and in Caleb. Caleb then shoots and Jarod feeds it back to him.
The action continues with a three way with Allesandro, Duke Savage and Allen Gregory and then progresses to another three way between Jake Harris, Ben Gunn and Jarod…but this time, Jarod is bent over and forced to take both of these men's hot, black, cocks deep and wide till the cum is dripping out of his mouth and ass!
Not satisfied after dumping a load deep into Jarod's fuckable, boy butt, Ben goes looking for Caleb who just happens to be taking a shower. With an offer from Ben to help Caleb "dry off his back", the action starts as Ben's thick, black, veiny, man tool slowly stretches Caleb's ass to the max and the hard pounding begins.
Use your CCBill Affiliate Code and promote this HDK Movie using the following:
Download Photo Set from this HDK Movie