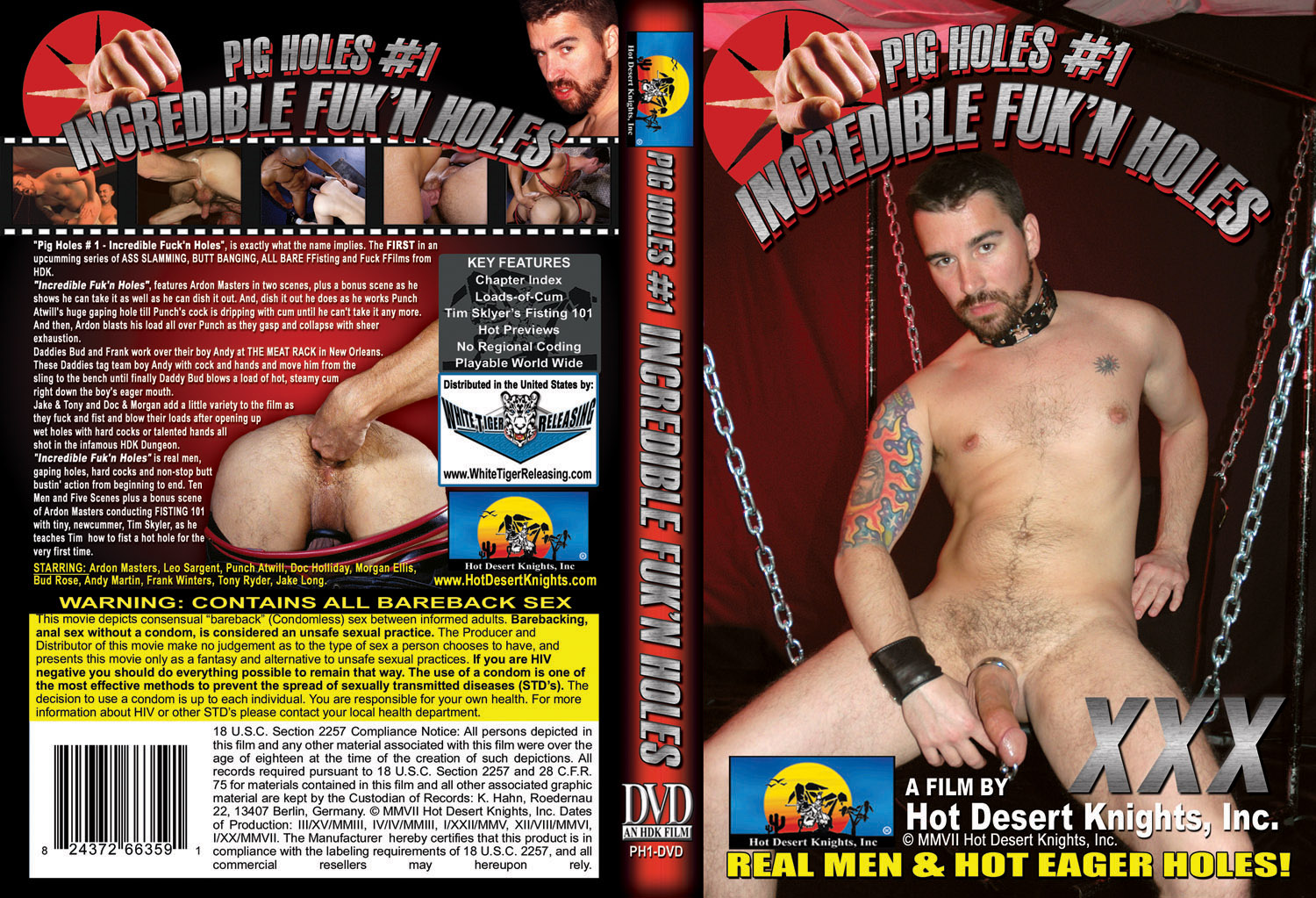 Pig Holes # 1 – Incredible Fuck'n Holes, is exactly what the name implies. The FIRST in an upcumming series of ASS SLAMMING, BUTT BANGING, ALL BARE FFisting and Fuck FFilms from HDK.
Incredible Fuk'n Holes, features Ardon Masters in two scenes, plus a bonus scene as he shows he can take it as well as he can dish it out. And, dish it out he does as he works Punch Atwill's huge gaping hole till Punch's cock is dripping with cum until he can't take it any more. And then, Ardon blasts his load all over Punch as they gasp and collapse with sheer exhaustion.
Daddies Bud and Frank work over their boy Andy at THE MEAT RACK in New Orleans. These Daddies tag team boy Andy with cock and hands and move him from the sling to the bench until finally Daddy Bud blows a load of hot, steamy cum right down the boy's eager mouth.
Jake & Tony and Doc & Morgan add a little variety to the film as they fuck and fist and blow their loads after opening up wet holes with hard cocks or talented hands all shot in the infamous HDK Dungeon.
Incredible Fuk'n Holes is real men, gaping holes, hard cocks and non-stop butt bustin' action from beginning to end. Ten Men and Five Scenes plus a bonus scene of Ardon Masters conducting FISTING 101 with tiny, newcummer, Tim Skyler, as he teaches Tim how to fist a hot hole for the very first time.
Use your CCBill Affiliate Code and promote this HDK Movie using the following:
Download Photo Set from this HDK Movie