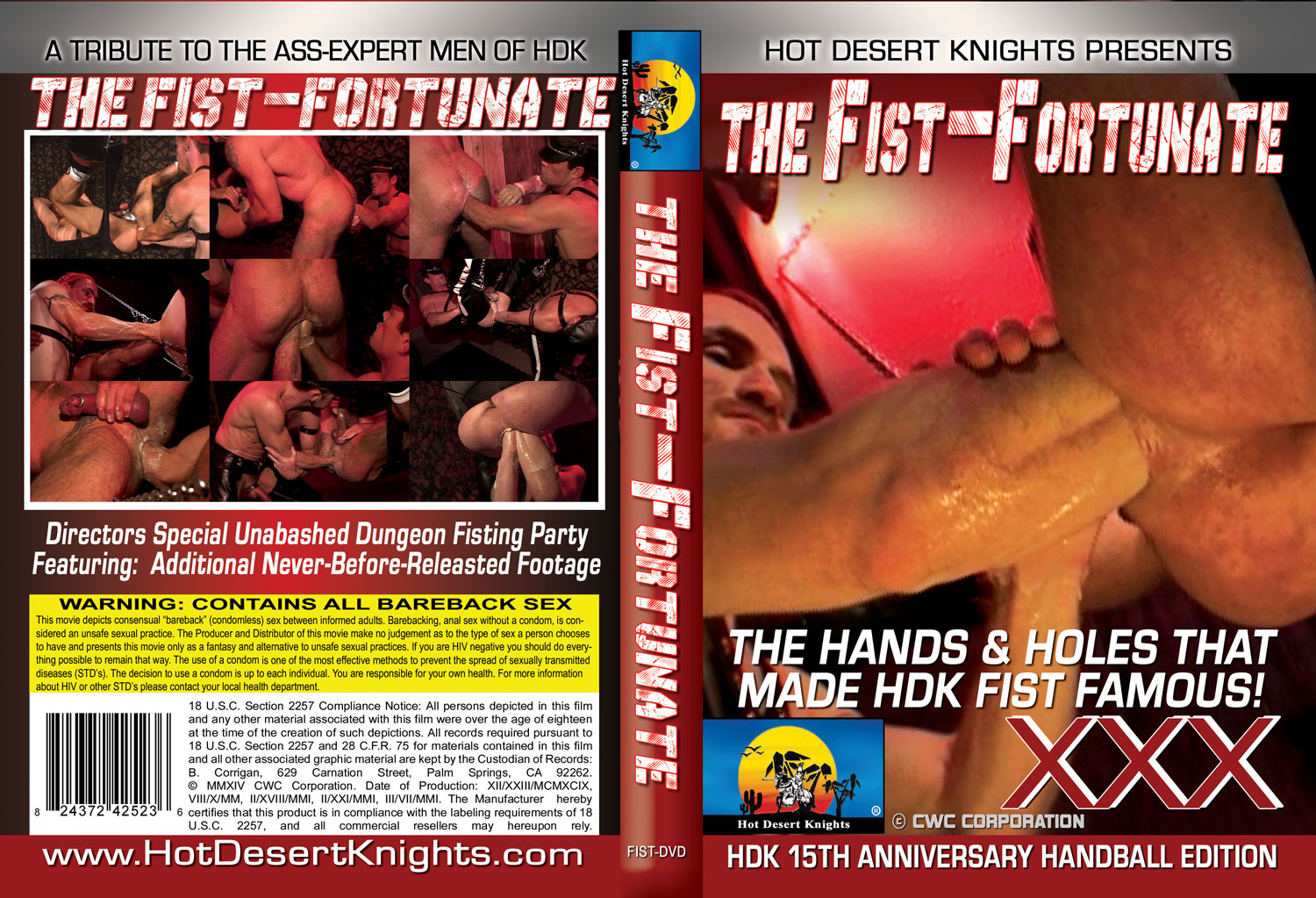 "THE HANDS & HOLES THAT MADE HDK FIST FAMOUS!"

Hot Desert Knights is proud to celebrate our fisting origins and 15 years in the gay adult industry with the launch of our latest release THE FIST FORTUNATE and "The Hands & Holes that made HDK Fist Famous". This is a tribute to the "Ass-Expert Men of HDK" and unique look into HDK Handball History!
Are you a fan of the good ol' days of continuous incestuous fisting orgies and never-ending HDK dungeon parties, well get ready to grease up your pig-hole, as you pop in this DVD and ride the biggest toys and talented biceps on the planet, 'coz these FIST FORTUNATE men punch fist and double fist, again and again 'til your squealing for joy. These guys do hand and a dick, and go not only double fist wide, but they'll reach for the elbow and rub the popping bicep against fist-filled ass cheeks. Trust us this one's gonna hurt!
Over 100 minutes of re-mastered and completely re-edited fisting archives of the hottest, steamiest, and rawest moments ever put together on video. THE FIST FORTUNATE features 28 hot and hard guys, including many HDK favorites, and some never before viewed moments of "lost arse-ives", in one full length feature film, of endless hungry pig-holes being fist-fucked to the max in the infamous "HDK Dungeon!"
Never before in the history of bareback porn has a dungeon fisting party displayed so many incredible FIST FORTUNATE men and their incredible talents. If you are into raunchy XXX fisting orgies, you've got to order this video and invite your friends over tonight! A HDK Special Fisting Party Edition not to miss.

Use your CCBill Affiliate Code and promote this HDK Movie using the following:
Download Photo Set from this HDK Movie